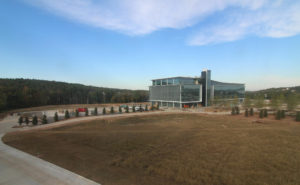 Over the past year, we have had the privilege to work with Admiral Glass Company on the new Bank of the Ozarks headquarters in Little Rock, AR. This building was designed and evaluated in 5 phases, with each phase presenting a unique challenge.
Working on this job over the past year allowed us to continue to develop our relationship with Admiral Glass Company and to address issues early and effectively. Maintaining open lines of communication with Admiral Glass allowed us to solve problems as they occurred, rather than allowing them to continue to propagate throughout the job.
In addition to the unique challenges that this job presented, it was a joy to work on such a striking building. Towering staircases are offset from the building, with polished granite columns rising adjacent to the glass walls. Aluminum sunshades are placed vertically along the East and West elevations with horizontal sunshades running along the North and South elevations. The roof-line gradually rises from East to West and adds a nice contrast to the otherwise angular appearance of the building.
Admiral Glass was gracious enough to share photos of the construction process. It has been gratifying to see the job progress and to understand our role in its production, and we look forward to continuing to participate in projects such as this in the future.
-Dillon Schmidt